LENNY ZAKATEK - THEN AND NOW
"One of the greatest rock and soul singers of his generation"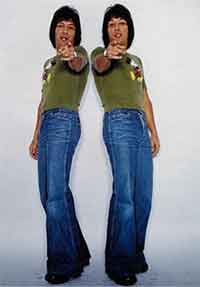 Known as 'The Voice," Lenny Zakatek added his unique vocal stamp to many tracks on the famous Alan Parsons Project. His hits included "I Wouldn't Want To Be Like You", "Games People Play", and "Damned If I Do". You may also remember "I Haven't Stopped Dancing Yet" which was a huge Disco hit worldwide for Gonzalez in the late 70s. Lenny was the lead vocalist for the band, and they toured with Bob Marley and the Wailers, KC and the Sunshine Band, and The Fat Back Band on their European tours.
It was Lenny's electric energy and artistry in Gonzalez that first attracted the attention of Alan Parsons. Alan and Lenny went on to enjoy a legendary musical relationship that spanned 10 years, and produced 8 hit albums.
Lenny's musical career began in the mid-1960s when he was 17, and it is still going strong today.
In 1964 Lenny formed a classic rock band called The Trailblazers, for which he was the lead singer and rhythm guitarist. On their first tour of U.S. military bases in Europe some fans introduced the band to the Motown sound, and Lenny was hooked! He'd found his niche. His heart resonated with the sound, and his voice was perfect for it too. The Trailblazers returned to the U.K. with a fresh new soul sound, and new name: The Funky Fever. They toured the U.K. and Europe for several years, and also layed at some of the best nightclubs in London, including Gulliver's, Whiskey a Gogo, The Marquee, Ronnie Scott's, The Scotch of St. James, and The Revolution. The Funky Fever also backed Inez and Charlie Foxx, and The Drifters on their European tours.
Lyndsey de Paul and Dudley Moore discovered Lenny in the early 70s, and Lyndsey took an interest in Lenny's fabulous voice, look, and stage presence. She dubbed him Zakatek, and wrote several songs for him that were released as singles on Bell Records by Dick Leahy. At the time, Dick had a stable of successful artists like Wham! Donna Summers, Billy Ocean and David Cassidy. Musicians on Lenny's solo project went on to become the pop band, 10cc.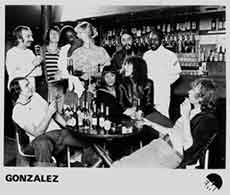 Between 1974 and 1981, Lenny was the lead singer with Gonzalez. They recorded a couple of successful albums including "Our Only Weapon Is Our Music," and "Shipwrecked." The worldwide Disco hit, "I Haven't Stopped Dancing Yet" came out of this exciting collaboration. Lenny's distinct vocal style has been a big part of the Alan Parsons Project success story. Recorded Between 1977-1987.
In reviewing Arista Records Heritage Series collection of 11 of The Alan Parsons Project's best tracks from 7 albums released between 1977 and 1985, Todd S. Jenkins, a music critic on AllAboutJazz.com says: "Lenny Zakatek's singing on tracks #2 ("I Wouldn't Want To Be Like You," ) and # 4 ("Games People Play" ) is prototypical of soulful prog-rock. His delivery adds a funky, bluesy air."
THE LEGENDARY VOICE
Alan Parsons engineered The Beatles 'Abbey Road', 'Let It Be' and Pink Floyd's 'Dark Side of The Moon'. He enjoyed 15 years of album and singles success and Lenny Zakatek sang on all the smashes. One of the great rock and soul singers of his generation, Lenny has enjoyed chart success with Gonzalez, Alan Parsons Project and a 2 album solo career as well as singing with INXS, Bon Jovi, Bob Dylan, Joni Mitchell and Japanese superstar Tomoyasu Hotei.
1979 saw the release of Lenny's first solo, self-titled album, Lenny Zakatek, which was produced by Alan Parsons for A & M Records. Along the way, he had single cuts such as "Brandy," "Say I Love You," and "Where Is The Love." In 1986, Lenny formed a band called The Immortals, with John Deacon (of Queen fame) on bass, and Robert Ahwai on lead guitar. Their single "No Turning Back" was on the soundtrack of the film Biggles. Lenny's second solo album, "Small But Hard," was released in 1989.
Not one to sit still, since 1988, Lenny has been wearing additional hats as a manager, music publisher and producer, while continuing to perform himself. He managed and coproduced three of Japan's most prolific recording artists: Tomoyasu Hotei, Miki Imai, and Kumiko Yamashita. In the U.K. he managed 7th Heaven, Huff and Herb, and The 3 Jays. The latter two acts achieved huge successes in the dance market. Lenny's publishing company, All Zakatek Music Ltd co-published some of the cuts on Kubb's debut gold album. He publishes and manages Sony/BMG artist Jah Waggie, a creative alter ego of versatile singer/songwriter/producer Jeff Patterson.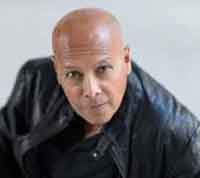 In 1995, Lenny had the honor of performing with Joni Mitchell at the Great Music Experience in Nara City, Japan, which had a worldwide TV audience of 100 million. He shared the stage with INXS, Bon Jovi, Bob Dylan, and Tomoyasu Hotei; and had the privilege of working with the legendary Michael Kamen, with whom he went on to do other projects.
2010 sees the impressive return of Lenny Zakatek performing with the Royal Philharmonic Orchestra and Dame Shirley Bassey at London's Royal Albert Hall to commemorate 50 years of The Beatles. 2014 saw Lenny headline the Croydon Festival to an audience of aproximately 11000.
CHART SUCCESS
Lenny Zakatek has enjoyed chart success singing on the million selling hit "I Wouldn't Want To Be Like You", "Games People Play", "Our Only Weapon Is Our Music" and the worldwide hit "I Haven't Stopped Dancing Yet".
"Love Letters" album release 2016, which will tour across the UK and Europe and will feature a classic mix of new album tracks and his favourite Alan Parsons Project songs. His two talented children, singer Amber and singer/songwriter Leon sometimes accompany him at those events.
In September 2017, Lenny was honoured at the Legends of Vinyl awards ceremony in New York where he was inducted into the Legends of Vinyl Hall of Fame for his contribution to the industry. Then at the end of December 2017, he was invited to perform alongside The Trammps, Tavares, Felipe of Village People and others at the 40th anniversary of the movie 'Saturday Night Fever' where Lenny (aka Gonzalez) and the other legendary artists transported fans back to the disco era.
2018 Lenny performed at the Westbury Theatre New York in an all-sequined, all-dancing disco celebration alongside Tavares, Harold Melvin's Blue Notes, George McCrae and others. First time in Miami Florida at The Renaissance club he will be performing his 1979 worldwide disco hit 'Haven't Stopped Dancing Yet'
Italy 2018 staying with the disco scene Lenny performs at the Disco Diva show in Gabicce (near Rimini) Italy and June also sees him in Italy to honour the music of Alan Parsons and Eric Woolfson with the Gavazzeni Symphony Orchestra and live band Skeye at the famous Lazzaretto in Bergamo, Italy.